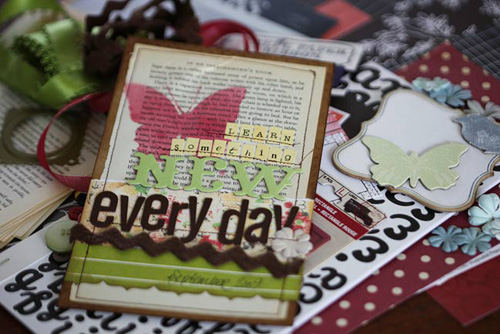 It's the start of a new month, one that's going to be a bit weird I think. Megan starts pre-school this month, so I'll be trying to figure out how to fit that in as well as the normal childcare headache! It feels like a new season, new start, but at the same time some things are in limbo...I'm 24 weeks pregnant, and have already started the whole physio/pelvis trouble scenario. I'm trying to enjoy it more this time, and not spend the next few months wishing it was over, but I'll be glad when it is!
So, to help my lack of crafty inspiration this year, to help time to go a bit faster, and just to keep myself a bit focussed, I've joined Shimelle's Learn Something New Every Day online class.
http://www.shimelle.com/classes/586/learn-something-new-every-day/
I've already made my cover, although I decided to start small and basically copied Shimelle's design. I quite often find if I copy something it helps me get back in the flow and I start getting my own ideas again, lol!
Anyway, I'll be back later with some things I've learned today!
xxx